Commercial Aquarium Design Experts for more than 25 Years, Serving Metro Phoenix
Providing One-Stop Aquarium Design, Installation
and Maintenance
An aquarium is living art, enlivening your environment with beauty, color, movement, light and sound. A well-designed and professionally maintained aquarium can provide your lobby, office, conference or waiting room with an engaging view and calming focal point.
When installed, every Tropical Dreams aquarium is fully operational, including fish, food and timer-actuated lighting. All that remains is to enjoy the scene.
Each quote is itemized, outlining all materials and equipment used in the installation. No detail is overlooked. Parameters are selected by aquarium type, size and more than twenty years of experience.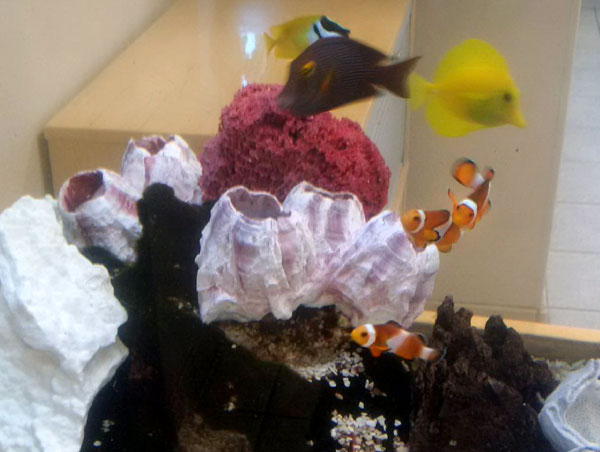 Each system is guaranteed to perform as intended with zero shortcomings.
Aquarium Design Considerations
The location of the aquarium is critical. Factors such as room size, window exposure, electrical and water locations determine aquarium placement.
Custom stands can be built to match existing furnishings, or the tank can be installed directly inside a wall for a view-through feature. (photo)
Fish Selection
We consider all aspects when selecting fish for your aquarium, whether adding to an existing population or starting fresh.
Considerations include:
Fish compatibility
Food requirements
Temperature requirements
Color
Size -- current and full-term
Shape; try an interesting mix!
Characteristics: aggression; where a fish resides in the tank (top, middle, bottom)
Aquarium Equipment
Two types of filtration methods are used. Closed systems employ filters inside the aquarium under the substrate for biological filtration. In addition, high capacity water pumps, canister filters with mechanical and chemical properties and water chillers are also installed inside the cabinet or wall.
Read more about filtration systems
and the importance of valves used in aquarium design.
Open systems use a surface mounted water skimmer with plastic biological media, a wet/dry filter, high capacity water pumps, canister filters and a water chiller inside the cabinet or wall.
Each system is used specifically for different environments. Tropical Dreams will ensure that you have the optimal system for your environment.
50% off*
first month of maintenance
• NEW CUSTOMERS ONLY •
*with 6-month service on 55+ gallon aquarium within Tropical Dream's service area in metro Phoenix.
Call

480-752-3474

to schedule a visit.
"T
ropical Dreams is THE BEST!! Bill has been servicing my saltwater tank for 16 years. My tank is always beautiful; my fish are happy and healthy. My friends always comment on how beautiful it is. You cannot find anyone more experienced, honest and reliable than Tropical Dreams! "
-- Richard T.